Photo Hunters Website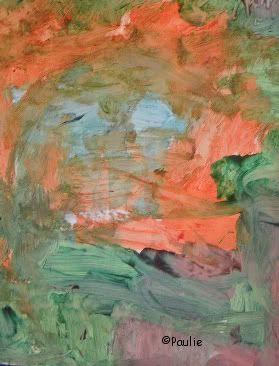 This is my first photo entry for the PHOTO HUNTERS weekly challenge. The original painting was done by one of my 4 year old preschoolers that I had the priviledge to teach this past year. Each time I look at it, I see something new. I like the depth and how your eye is drawn to the light of that depth.
The way some schools today are so into testing and shoving the curriculum down the grades, this young artist may never get to have additional opportunities to paint expressively like this gem again. It's so sad that there is no time for "exploring" the arts in many schools today. Where are our great artists going to come from in the future?
Post script:
Zhel, a teacher that posts on Tnet chatbaord wrote this description of my preschooler's painting:
"What I see is: the observer is just about to exit a forest and
walk toward a waterfall. The waterfall is red, on the right
side. There is a perfect red tree on the left side, and
various herbs at the foreground, waving in the breeze. The
clear lake water is visible at the middle of the picture, with
some trees' reflection."
Isn't it wonderful when others can see the "art' in a small child's painting?