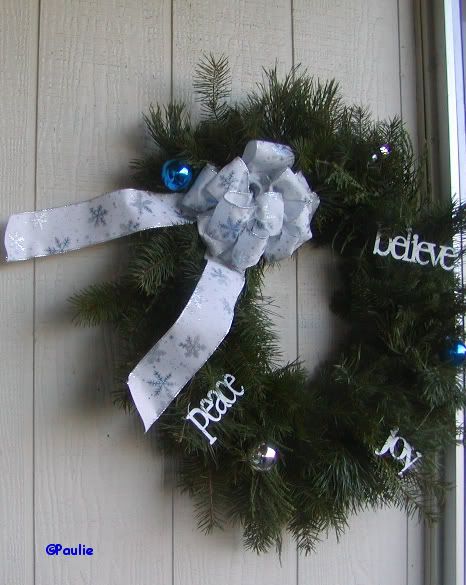 Making this wreath on Saturday helped me to realize I would miss my Christmas tree if I did not put it back up -- after taking it down last week because I felt depressed. So, today, I dug out the sections of the tree and assembled it again. Now, getting all those lights on it will be my next job. Then, I have to unpack the big storage container of ornaments I hand wrapped last week. . . I didn't think I could leave them put away for long.
I purchased the three metal word ornaments from a Christmas shop called "Holly and Ivy" last month. Well, actually, I got 4 "word ornaments" but somehow I have misplaced the "LOVE" one. Maybe it is wrapped up in paper toweling and in the tub of ornaments. I don't know. I am a champion in losing/misplacing things. Always have been! Why should this year be any different?
When I make my wreath at church with our ladies group, I have never --in 20 years -- used anything but pine branches. . . THIS year, I decided to try three different kinds of greens and I like it. I wish I had a couple more blue and silver ornaments to put on the wreath but I used them up for some project years ago so 4 will have to make do.
Maybe Monday after work I will put the lights on my tree and Tuesday, the hundreds of ornaments will adorn it once again. We will see. I love having my tree up all year. I love the positivity that coems from seeing it daily. It makes my day!
My DIL is unhappy that I can't come to their house for Christmas Eve because I have a committment to play hand bells at church for the Christmas Eve service and only have Christmas Day off from work. (With working at a daycare, you don't get days off like at a school.) She should have invited me sooner, before I made other plans.
Sooooooo, puting my tree up all year helps to ease the sadness when i m alone for the holiday once again. I wish I had news from oldest son in Afghanistan. I wish I had located my daughter. I wish I had a good paying teaching job. BUT . . . no news is good news. I know my daughter is capable of taking care of herself. I love teaching my preschoolers even if I don't get paid what I am worth.
I think I will teach them to sing "O Tannenbaum" during my German lessons. . .
I don't have to wait for December 25th for Christmas. . . it's always here in my heart!