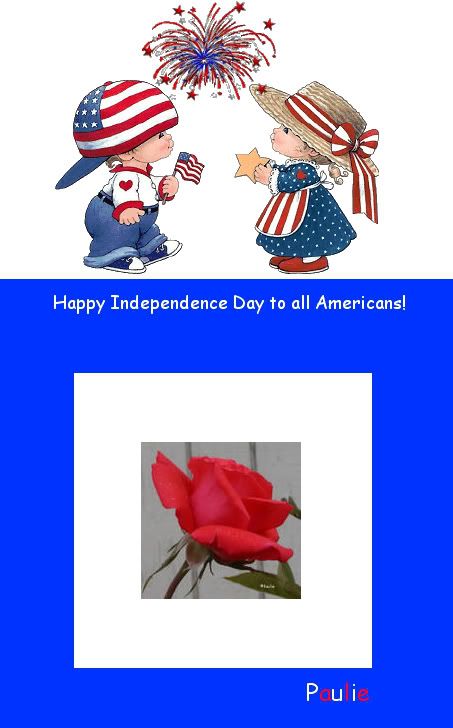 In the United States, we celebrate our independence tomorrow! It is July 4th!
Independence. . . sometimes, I wonder how many Americans really understand what that word means. Some of us just think it means a BBQ with family and friends, maybe a city parade, and fireworks. But why do we do these things? What is the celebration all about? Can we still celebrate our independence even if we don't BBQ, visit friends, participate in parades or watch the firework displays?
Maybe we need to reflect on this seriously. How do we go about doing that? How far back in history do we need to ponder? Is reflection enough? Let's see. . . since I was born at the end of WWII, is that far enough to know and appreciate the freedom I enjoy as an American and apply to my life today? What about the life of my family, friends, neighbors, etc.? Why would I need to know history way back in 1776?
I think the answer lies in "knowledge is power". . . How can we appreciate what we have if we don't know what it was like without it. I'm speaking of freedom. The freedom our forefathers fought for so we can all enjoy life; the freedom that men and women continue to preserve throughout the world.
Today I think especially of my two sons, their Dad and Grandfather -- all served/are serving in the Navy to help provide the freedom we celebrate yearly on the 4th of July. Thank you God, for their patriotism. Perhaps everyday should be Independance day celebrations in our hearts.
Tomorrow, when I go to the Fort Vancouver parade grounds to celebrate and the flag is brought in by men and women of all branches of the military,my heart will swell with pride that I live in America, that part of my family continue to serve to keep us free. . .YES! I will proudly stand when they call out NAVY! Thank you Todd and Shaun. . . Am I proud to be an American? You bet!
AND, God, please continue to keep Todd and his buddies safe from harm during their mission in Afghanistan. Bring them back safely, every one!